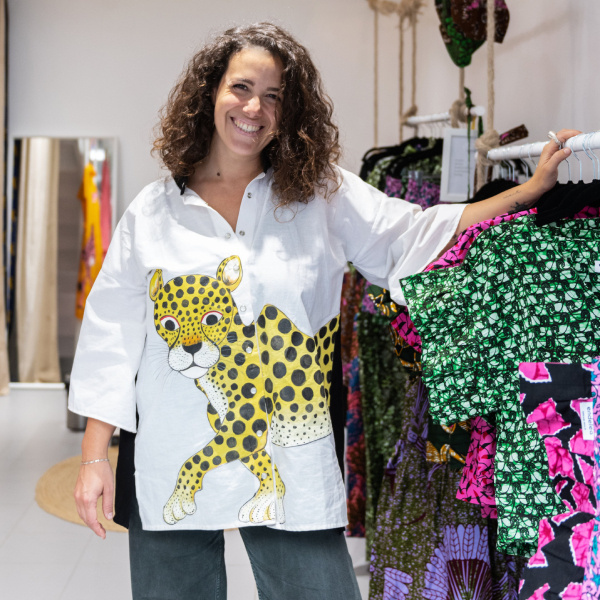 COLLECTION
Endelea presents a selection of the wider Spring Summer collection, with the relaxed lines of the tie-dye capsule collection, the woven sisal bags and new variants of wax garments, inspired by flowers and arabesques. All pieces of the collection stand out for their attention to ethics and sustainability: the new tie-dyed cotton is hand-dyed by Sifa, a women's collective in which women teach the secrets of this traditional process to other young women who have dropped out of school, offering them an income and the opportunity to learn a new skill. The sisal accessories are made by Hadithi, an association that supports more than 1,800 women in rural Kenyan villages. All clothes have been crafted in the Endelea workshop in Dar es Salaam, where the production involves now 15 local tailors and seamstresses.
DESIGNER
Francesca De Gottardo is the founder and CEO of the ethical fashion startup Endelea. Graduated in archeology, she transformed multidisciplinary in her strength, working first in the online communication of museums and cultural institutions, and of important international fashion brands, then.
Five years ago, she left a permanent contract and a promising career in Milan to start a new sustainable fashion project in Dar es Salaam, Tanzania, with the aim of generating positive change in people's lives.
"Endelea" in Swahili means "to go forward without surrendering to difficulties". Dreamer, optimist and curious, Francesca has made it her life motto.
BRAND
Endelea is an ethical fashion brand born in Milan in 2018 with the idea of creating ready-to-wear and accessories in traditional African fabrics with a Made in Italy design. The collections are designed in Milan and hand-made in Dar es Salaam in Tanzania. The name Endelea, which in Swahili means "to keep going forward without giving up" is the perfect synthesis to describe who we are and is consistent with an approach that focuses on people
and creativity, building value for both consumers and communities involved in the supply chain.
Endelea is a Benefit Corporation, an entity that works to have a positive impact on people and the environment. 85% of the team is made up of women, with a zero gender pay gap. The salary of the tailors and seamstresses is 96% higher than the national average and all enjoy health insurance for themselves and their families, along with professional courses.