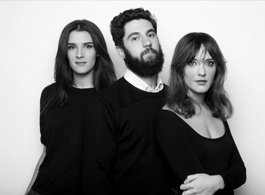 Founded in 2013 in Milan, Farewell is a brand focused on avant-garde footwear. The collections are unisex original items coming out from a mix of hiking world, relaxed espadrilles and urbanwear. It's an experiment on sole shapes, functions and materials outside the rules, a contemporary twist on classics and traditional craftsmanship. Farewell is to say goodbye to boredom, to blend different worlds a new one. Designed and made in italy.
We are three Italian longtime friends Marta Bagante, Giulia Bison and Federico Grassi, former design school mates and professionals in art direction and fashion field. We first graduated at Politecnico di Milano in different fields, Fashion Design, Interior Design and Product Design, to then meet during our bachelor degree in Product Service System Design. We've been flatmates and colleagues working for independent advertising agencies for the last 5 years, that's how Farewell was born, as a side experimental project during our spare time.

Started off as a way of pouring out our inner creative instincts together, we collected and selected limited pieces of vintage items such as original 90's espadrilles and revised it adding a bright contemporary twist. Then we went to spain to produce our very first collection of hiking espadrilles, that we presented in Summer 2013. Soon the brand gained the media attention and is nowadays one of the relevant international emerging designers working on footwear innovation. In 2014 the brand has been selected by Vogue Italia and Yoox.com to be one of the 11 international emerging designers of The Vogue Talents Corner.com. Today we collaborate with other fashion brands designing footwear collections and building their brand image and communication, as we first did with our own project. Since the beginning the purpose was to grow worldwide by keeping being experimental and unique though easy and wearable.