KEEP UP WITH PEOPLE DEVELOPMENT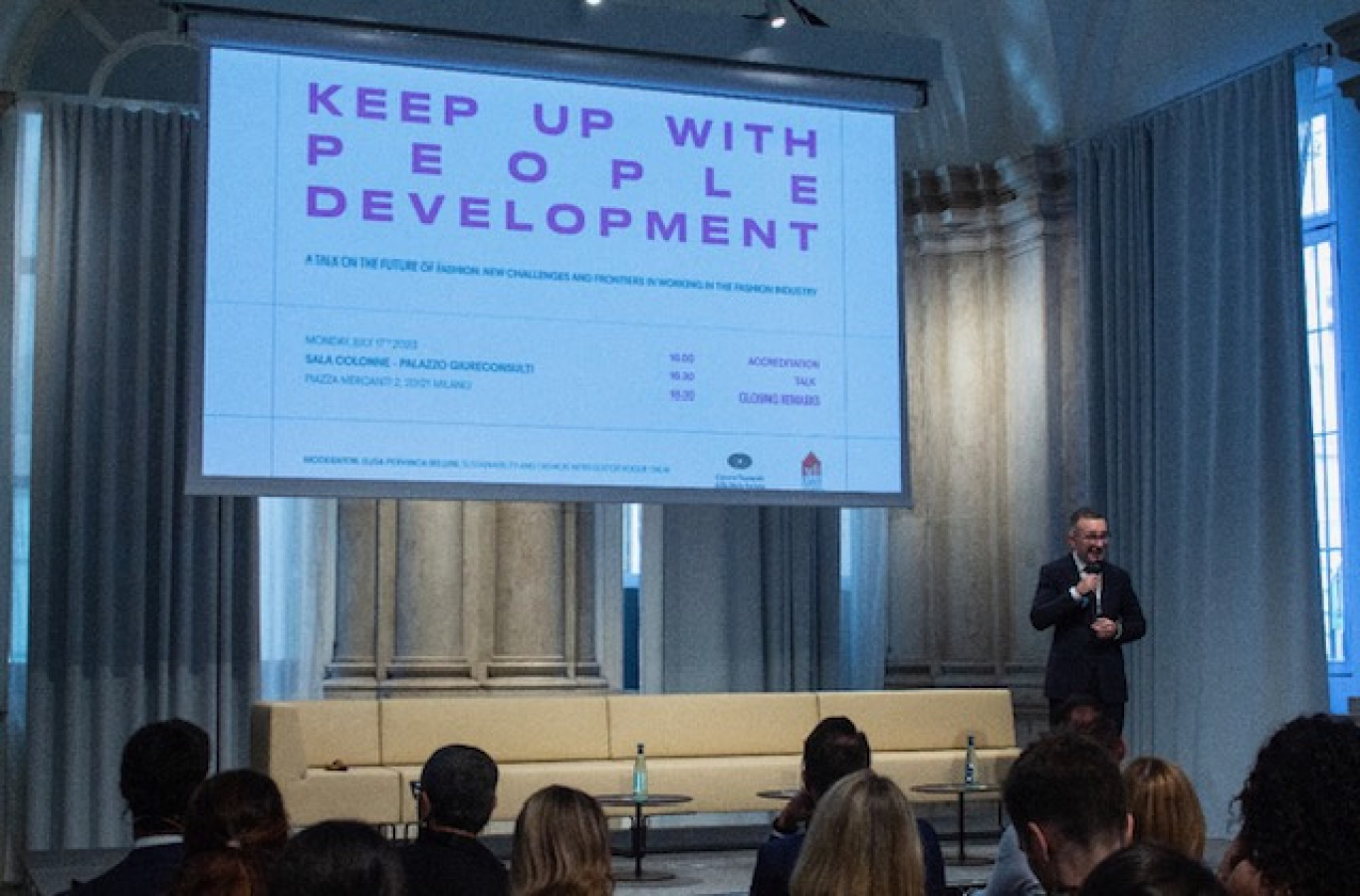 The 2nd edition of Keep Up With People Development, a talk organized by Camera Nazionale della Moda Italiana and Milano Fashion Institute, a postgraduate training college, was held Monday 17 July, at Palazzo Giureconsulti in Milan.
Keep Up With People Development is a talk on Human Resources themes addressing CNMI members and also open to a hundred or so Master's students at Mi- lano Fashion Institute. It's held at the end of the Career Days week, in which students have interviews with businesses in the fashion sector to find an internship to complete their courses. On this final day, Camera Nazionale della Moda Italiana focussed on various human resources topics and in particular the development of human capital, a strategic asset that's becoming increasingly important for companies in the sector.
Understanding the importance of HR-related themes, CNMI, in 2017, set up the first Human Resources working group to explore new trends and visions in this field. The group was set up to share professional experience and find ways to innovate the system. The goals of the HR&Education working group are education, communication and storytelling, lobbying, diversity, equality and inclusion.
The talk was moderated by Elisa Pervinca Bellini, Fashion News and Sustainability Editor, Vogue Italia. Speakers included Marina Facchini, Global HR Director, Regions & Commercial Channels, Dolce&Gabbana, Giuseppe Grossi, Global Head of Talent Acquisition and Employer Branding, GUCCI, Rina Tollio, Talent Acquisition Manager for Creative Roles, OTB Brands, Emanuele Barberis, Partner and Head of Employment Advisory and Litigation, Chiomenti, Massimo Di Vera, Organizational & Human Resources Consultant, Eupragma, Silvia Lazzaris, Multimedia Reporter and Author, Will Media, and Andrea De Santis, Associate Partner, McKinsey & Company.
The conference was in three parts, each addressing a different theme: "Back to Human: a vision to the future of human resources", an insight presented by McKin- sey & Company. Understanding the system and future scenarios. Leading change by nurturing talents. The main themes covered were the rethinking of business management and leadership through people development and people management themes. Also discussed were the various development paths available in com- panies through performance management, engagement and employee experience thanks to up-re-cross skilling activities (concentrating on soft and hard skills). And lastly, how to build a healthy organization by implementing projects promoting the values of diversity, equality and inclusion to develop a business culture in step with the times.
The event drew attention to some interesting research data illustrating the challenges, priorities and major issues in Human Resources today. According to Gartner HR Priorities Survey 2023, 60% of HR leaders at international level indicated the following as their priorities: leader and manager effectiveness (60%), organizatio- nal design and change management (53%, 5% up on 2022), employee experience (47%, 19% up on 2021), recruiting (46%), and Future of work (42%). Certain new employment prospects emerging from Gartner's Future of Work Trends in 2023 were also looked at. The nine trends in question were "quiet" hiring to find new talents, hybrid flexibility for the front lines, taking pressure off managers, searching for non-traditional job applicants, focussing on mental health, stepping up DEI initiatives, dealing with employees' data privacy issues, reducing bias in recruiting algorithms and remedying the Gen Z's soft skills gap.
"Today's meeting is an important opportunity to put people front and centre. The women and men working in our industry who make it possible to generate the value that Italian fashion represents. Camera Nazionale della Moda Italiana has been organizing the HR&Education working group for years now to discuss the human resources issues of the moment. It's become one of the pillars on which the Association bases its strategy, which is to generate positive impact. It's vitally important to continue focusing on people and their work, involving research and dialogue to promote innovation", commented Carlo Capasa, President, Camera Nazionale della Moda Italiana.
Today is a highly important moment in that it brings to an end a week spent entirely on the career management of our students, as well as the biggest career event in Europe exclusively addressing fashion," explained Nicola Guerini, General Manager, Milano Fashion Institute. ""This year we've welcomed over 70 businesses in the fashion and luxury sector to our campus, providing over 90 workstations. Our students have been through over 1,400 interviews with top European companies, some of which travelled to Milan specifically for this occasion. We're excited to be celebrating this event dedicated to the growth of young people and their future, and further strengthening the bond between education and business."
"In the last decades, human-resource leaders have found themselves on a cost-efficiency treadmill that applies analytics and big data to existing HR operating mo- dels. Even in the areas of HR traditionally imbued with meaning and cultural significance—recruitment, and learning and development—the emphasis has been on productivity and how to measure it. For chief human-resource officers (CHROs), the question has now become whether processes have replaced the creativity and innovation they need to attract and develop talent, manage and reward performance, and optimize workforce strategy. This desire for more people-centric policies came through loud and clear where the majority of the CHRO said they were eager to shift to a "back to human" model thanks to 2 main areas of work: HR role: From process to people and HR as role model," affirmed Andrea De Santis, Associate Partner McKinsey & Company.