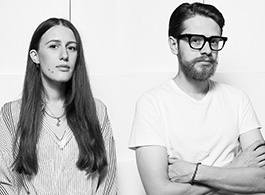 The acronym L'F represents designer duo Licia Florio (L) and Francio Ferrari (F), partners in both their
personal and professional lives. The apostrophe between the two letters represents the union of their two worlds, that something more that needs no explanation. The L'F SHOES collections have an optimistic spirit and reveal irony and a positive approach to life. Their stylistic hallmarks are a passion for colour and contrasting materials, details that have evolved as the brand has progressed and been reinterpreted in unusual ways. Every pair of shoes is seen as a piece of design and is made to last, with a focus on attention to detail and Italian production quality.
L'F SHOES presented its first capsule collection in AW 2011-12 and the summer 2012 collection was selected by Vogue Italia, with the pair participating as emerging designers at Palazzo Morando.
The sixth season, AW 2014, was selected by L'Uomo Vogue and GQ Italia for The Latest Fashion Buzz in Flor- ence. L'F SHOES is available in more than 70 cities around the world, from big department stores to online bou- tiques and top luxury stores. L'F SHOES has worked in collaboration with various boutiques and brands such as CAMO and MSGM.