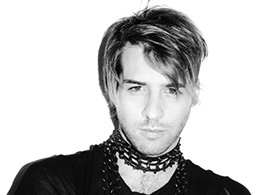 Emanuele Bicocchi was born in Florence in 1983. Since a very young age he showed a strong creativity sreak that he nurtured and developed to make it his own strength. His artistic flair is a unique combination of informal elegance and his ability to express feelings and moods through his creations.
At the age of 18, he starts cooperating with important fashion companies and contributing to the creation of several precious accessories collections. At 21, he meets Giulia Diamanti, his soul mate, who soon after became his wife. She is the one who believed in Emanuele, supported and helped him in his most important decisions.
At 23, Emanuele creates his first jewellery collection, which received enthusiastic welcome from experts. Now, Emanuele and Giulia run the business together with the essential contribution of designer Gino Diamanti and also open their first single-brand showroom in Milan. Today the brand is distributed internationally through boutiques in leading capitals and cities worldwide and in the most exclusive multi-brand stores, including leading luxury department stores.