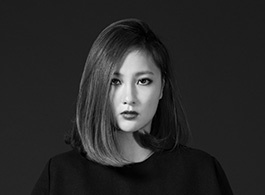 C.J. was raised in Shanghai, China. In 2006, before starting her study in fashion design C.J. was awarded the 1ST RUNNER UP of ASIAN YOUNG FASHION DESIGNERS CONTEST in Singapore Fashion Week. In 2012 C.J. has graduated from fashion design womenswear at Central Saint Martins in London Fashion Design. Throughout her studies she worked for Alexander Mcqueen. Her final collection has been selected and shown successfully at the Press Show 2012 and also features in "i-D", "Vulture", "Dmag" and many others. She was called as "Next Generation" by "i-D" magazine.
In October 21st 2014 C.J made her debut with the brand C.J. YAO in China during Shanghai Fashion Week to present its 2015 spring and summer collection. Even if her attention attracted London Graduation Show of Central Saint Martins in 2012, the young talent C.J. has deliberately kept low profiles in establishing and running her own label, which is registered, both in the UK and China. After two season's preparation, she presents her name brand C.J. YAO in Shanghai, her hometown. In 2015, C.J. finally has presented her Autumn Winter catwalk show at Fashion Scout during London Fashion Week; the collection has been shown at Vogue.co.uk and Glamour.com as well.
The label is based on developing the ideas of the new aesthetic appreciation of women with experimental contemporary lifestyles and attitudes. It is not only filled with power and pioneers, but also carries modern and grace, becoming the distinctive and unforgettable visual memories.