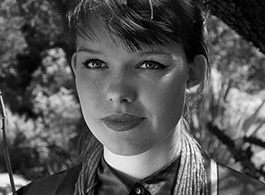 Liselore Frowijn studied at ArtEZ Institute of Arts Bachelor Fashion Design in Arnhem, The Netherlands, and graduated with honor in 2013 with her collection 'Afternoon of a Replicant'. With this collection, Liselore has won the Dutch Couture Award of FransMolenaar July 2013, and the Prix Chloé at Hyères International Festival de la Mode 2014 with her design for Chloé, where she was one of the ten finalists.
During summer 2013, Liselore did an internship in the innovation team of the fabric-company Mantero Seta S.p.A. in Como, Italy, to develop exclusive painted fabrics for clients in the high-luxury fashion industry, such as Prada, Chanel and Gucci. From October 2013, Frowijn has worked as a fashion designer on project at design company Vlisco, that develops wax-textiles since 1846 for the West-African market.
The concept of her second collection ''Fracture space''is based upon biking-jackets and polo-shirts, carried out in tweed, and finished with sporty pipings. Liselore combined her own developed and hand painted fabrics with materials from the outdoor industry, with rich jacquards from Italy. So in October 2014, Liselore was nominated for the Young Designer Award during the Dutch Design Week in Eindhoven .

As a designer Liselore feels the continuous drive to capture the energy she obtains from art, music, people, and different cultures she is surrounded by. Fashion became her playing field, and the challenge is to find the unexpected. Her designs are balancing on the narrow border of high and low cultures. Every new design is as a living painting, carefully built up as a collage, where she is always searching for the perfect balance between aestheticism and imperfection, juxtaposed all together. Her designs are for women with a curiosity for the world, they are explorers in heart and soul; ambitious, curious and independent.